You Make Me Sick
is the fourth episode of the first season of "Reba." The episode aired on October 26,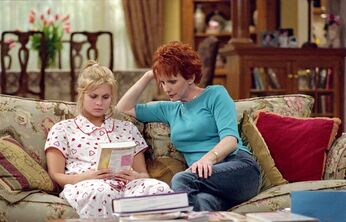 2001.
Cheyenne is experiencing morning sickness for the first time and Van is tired of her vomiting.
Reba suspects that a neighbor does not want her son hanging out at Reba's house with Jake because of all the objectionable things that go on.
Brock convinces Van that Cheyenne's morning sickness is mental and that she just needs to get over it (after all, Barbra Jean only had one day of queasiness and now she's fine). He suggests that Van and Cheyenne come over to his place for a nice dinner.
Cheyenne agrees to go, but still doesn't feel well. BJ takes her aside and tells her that she just needs to lie. BJ feels terrible and has morning sickness too, but she hides it from Brock to keep him happy.
Cheyenne attempts to act happy but finally breaks down and admits to Van that she feels awful. They agree to be honest with each other.
Reba's neighbor admits that she doesn't want her son at Reba's house, so Reba denies Jake permission to go on a campout with his friend. She tries to cheer Jake up with an indoors campout at home, but he doesn't buy it.
Reba's neighbor shows up and says that she's sorry and she should have known that she can trust Reba.
When Reba runs up the stairs at the end of the episode at the top of the stairs, you can see a hand waving for her to come.
Van: Coach said B.J. was only sick for one day and do you know why that is?
Cheyenne: I don't know. Something to do with Jesus?
Reba: There's no teenage orgy on our lawn. There's a couple frisky squirrels, but I just tell Jake they're dancing.
Van (to Cheyenne): I want you to stop vomiting.
Cheyenne: If I can control it, I'd do it on you right now.
Community content is available under
CC-BY-SA
unless otherwise noted.