Your Place or Mine
is the season two finale of "Reba." It aired on May 9, 2003.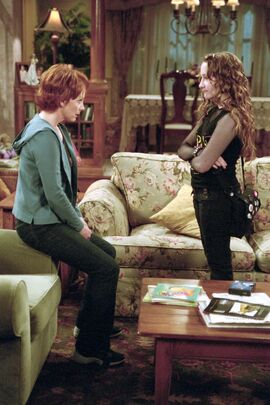 Kyra's decision to move in with Brock and Barbara Jean leaves Reba reeling while the rest of the family tries to sort out their feelings of hurt, anger and guilt.
A series of flashbacks revisits the turbulent milestones in the family history that led them to this point including when Barbara Jean first meets the Hart family where we find out Brock used to find her really annoying and Reba thought she was nice.
Reba McEntire as Reba Hart
Christopher Rich as Brock Hart
JoAnna Garcia as Cheyenne Montgomery
Steve Howey as Van Montgomery
Scarlett Pomers as Kyra Hart
Mitch Holleman as Jake Hart
Melissa Peterman as Barbra Jean Hart
This episode was taped on April 8, 2003.
This is the only episode to ever be shown in the attic.
This episode marks the first time we see Barbra Jean's "lying face."
This is the first and only time we see Kyra's room at Reba's house. The next time we see her room, it is at Brock and Barbra Jean's house.
Throughout the previous episode "Location, Location, Location," Kyra's hair is straight. When the final scene is continued at the start of this episode, her hair suddenly has become wavy. Additionally, her dialog doesn't match.
Near the end, Cheyenne's pants say "S O U L," but later, there is no writing although she never left the living room.
Near the end of the episode, Kyra is not wearing a backpack when Reba hugs her, but later, she is seen with a backpack, although she never actually leaves the room.
In the flashback when Kyra is a little girl and does not want to move into the new house, she looks to be somewhere around the ages of 6-8. However, in "It Ain't Over 'Till the Redhead Sings," Cheyenne is even younger than her (in one of the flashbacks) and already moved into the 'new' house. Therefore, Kyra should have been born in the house.
Reba: I'm looking for my BB gun. Did you know that you can see Barbra Jean's house from here?
Barbra Jean: Brock, you know I can't keep secrets, that's why I was such a bad mistress.
Van: (about Elizabeth) She's getting bigger, Cheyenne.
Cheyenne: Well, it is our fault. We keep on feeding her.
Van: I have a great idea!
Cheyenne: We can put Elizabeth in Kyra's old room!
Van: Well, I was going to nail the door shut, but that's even better!
Van (to Reba): Usually you're "Grrr... You don't scare me, I'm Reba! Hehe. "